Verdun's "No-Bull" Warranty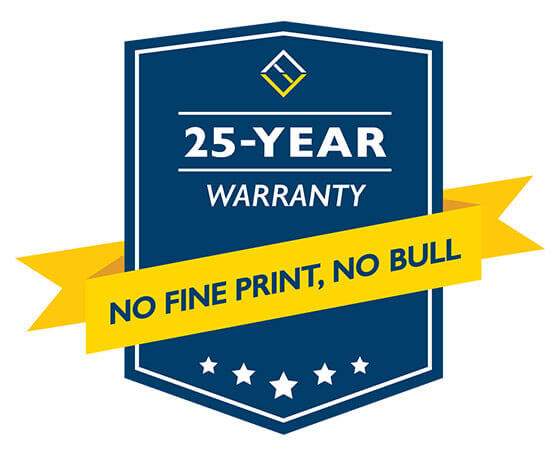 As of June 1st, 2020, every window and door we install is now covered for 25 years. Our new 25-year "No-Bull" Warranty covers hardware and labor for your products and installation.
A warranty is only as good as the company standing behind it. We've been in business over 30 years and we've been profitable every year. We will be around in the next twenty five years to stand behind our warranty. Without that certainty your warranty isn't worth much.
As part of our complete customer care guarantee – If anything goes wrong with any of our products or installation we will make it right. No hassles, no fine print, no-bull.
With Verdun, everything's covered.
Don't be fooled by other Limited Lifetime Warranties.
Verdun's No-Bull Warranty
25 years, parts and labour
Transferable at any time
Not pro-rated
Simple
Typical "Limited" Lifetime Warranty
Labour not included after first year (@ $100 per hour or more)
"Lifetime" on specific parts only
Pages of small print and complex legal language
Multiple exclusions
"Normal wear and tear" not covered
Different warranties between manufacturer and installer
Cumbersome warranty registration processes
Complicated warranty claim processes
Necessary to wait weeks and months on warranty or service claims
What to look for in a Replacement Window and Door Warranty
For anyone looking to replace their current windows or doors, this is a must read. We have 5 Tips that could save you thousands of dollars on your window and door replacement.
Make sure you know exactly what 'Lifetime' means and, more importantly, exactly what is, and what is not covered in your warranty.
If the manufacturer and installation companies are different, you should read and understand both warranties before making a purchase decision.
Look for a warranty that is simple, honest and complete.
Make sure you understand the financial track record of the manufacturer and the installation company before you purchase.
Make sure you know exactly how the claim process works with both the manufacturer and the installer and what written guarantees they give you for turn-around time on claims.
Read the full article on how you could save you thousands of dollars on your window and door replacement.
Get a
Free

Quote

Contact us to schedule your free in-home quote!
Have questions about our products, installations, warranties, etc?
Contact our support team. We will be glad to answer any questions you might have.
Contact Us