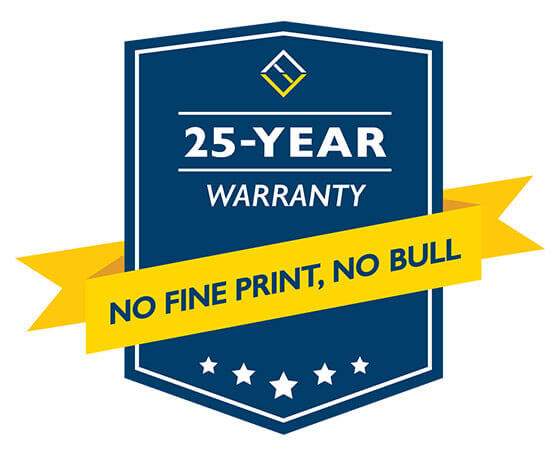 The best warranty in the industry just got better! As of June 1st, 2020, every window and door we install is now covered for 25 years. That's 25% up from the previous 20-year coverage.
What makes Verdun's "No-Bull" Warranty the best in the business?
It is simple and comprehensive. Our warranty fits on one page. Every term is clear and upfront, without ambiguous terms, fine print, or hidden conditions. Hence the "No-Bull" name.
We're your one-stop shop for windows and doors. We manufacture, install, and service. When you deal with us, we take care of everything. If something breaks, we're there to fix it instead of pointing fingers at others.
Our warranty is non-pro-rated, meaning that any required service is free.
No proof of purchase is necessary, as we have everything we install on file.
The warranty is transferable, and future owners automatically get the remaining coverage.
It doesn't just cover products against manufacturing defects, but also their installation and any service needed – parts and labour – for the life of the warranty.
How did we make our warranty better?
As of June 1st 2020, our warranty term is 25 years.
It offers better coverage and a longer term than other lifetime warranties.
Why the new warranty?
In our relentless pursuit of a better customer experience, we are proud to have achieved awesome things:
We have invested years in developing a more energy-efficient window that's affordable to everyone. Now, our new RevoCell® windows top Canada's charts in energy rating, strength, and brightness.
We manufacture our own windows, produce less waste, and have experienced workers who take pride in delivering better quality products.
We keep the best installation crews around, and keep them busy all year long.
We run a large after-sale service department, with veteran fenestration technicians.
More and more homeowners have trusted us with their window and door replacement. We appreciate their business, and it's only fitting that give them back a longer and better commitment to service.
How will it work?
Our new 25-year warranty automatically applies to all windows and doors installed on June 1st 2020 and thereafter.
The new 25-year warranty is not retroactive, so anything installed prior to June 1st, 2020 is covered by our previous 20-year warranty.
The warranty comes into effect on the date that an invoice is paid in full.
Great news for everyone!
We are happy to see that more companies are following suit, and have started offering better warranty coverage on performed home improvements. It makes a great difference, particularly in the construction sector – long plagued by shoddy workmanship and deceptive practices. In the end, everyone stands to benefit, from customers who have less to worry about, to window and door companies who get more return business.