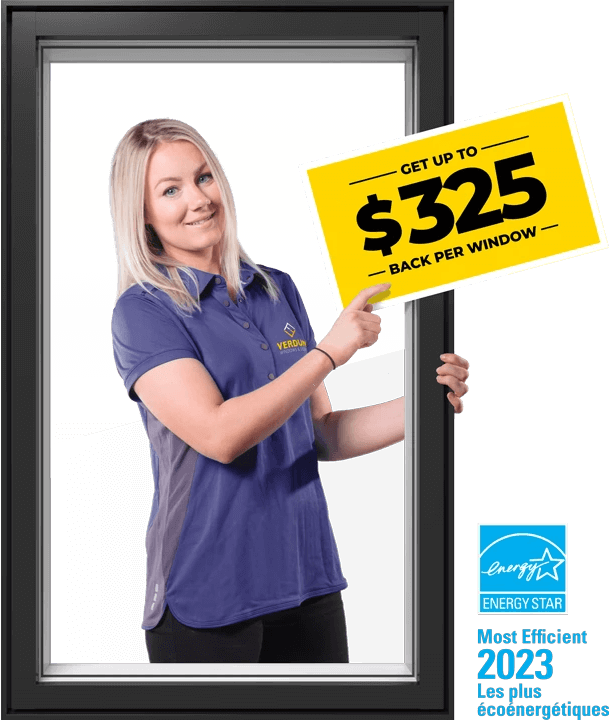 Maximize Your Return on Investment
Apart from saving you more money on energy bills, our ENERGY STAR® 2023 Most Efficient certified RevoCell® windows qualify for significant financial incentives under the existing financial incentives. Ontario homeowners can get up to $10,000 back with the Home Efficiency Rebate Plus program from Enbridge Gas, while homeowners in Quebec — up to $20,000 under the provincial Rénoclimat program. Our windows also qualify for the interest-free Greener Homes Loan of up to $40,000 from the Canada Mortgage and Housing Corporation (CMHC).
Looking for Replacement Windows? Verdun is here to help.
We've been serving the greater Ottawa area and Outaoais region for over 35 years. We manufacture the highest quality, most advanced windows on the market today. All of our windows are engineered on a single, seamless frame which creates a stronger, more durable window that provides optimal protection against water and air leaks.
What style of window are you looking for?
Reasons to choose a Verdun Window
Our industry-leading Nordik windows are the strongest window on the market today. Because we use the highest quality PVC for our windows, we can build strong yet lean frames. This gives your more glass and, subsequently, more light. All of our windows are Energy Star® High Efficiency rated and are CSA Certified.
Our Windows are Stronger
The structural engineering of our windows is second-to-none. We use the highest quality PVC material and build all of our windows on one solid frame. You need a three-paneled casement window? One frame. All of our windows are locally manufactured in Ottawa and are custom built exactly to your specifications.
More Glass means More Light
Our windows are engineered with a 4½" PVC welded frame between our glass thermal-pane units compared to the 6" - 7½" mullion used by our competitors. What does this mean for you? It means more glass and more light. Isn't that the reason you bought a window in the first place?
Energy Star® High Efficiency Rated
Verdun helps you save on energy costs for years to come. That's why all of our windows are made with the highest quality materials and the newest energy saving technology available on the market today. As a result, all of our windows have been given the Energy Star® High Efficiency rating.
Energy Efficient Windows
The manufacturing process of all Energy Star® certified windows sold by Verdun Windows and Doors are audited by an independent accredited certification body and approved by Natural Resources Canada. Our windows and doors carry the Energy Star® label showing the specific climate zone for they are rated for. Our sales team would be happy to provide you with more information about the Energy Star® ratings of our windows and doors.
Verdun Windows and Doors' windows use Tremco® EnerEDGE® Technology, a pre-desiccated, ready-to-apply, cellular silicone warm-edge spacer that is suitable for a wide range of insulating glass constructions in fenestration applications. EnerEDGE® spacer is inset and applied to our glass lite's perimeter to enable fabrication of dual IG units inconjunction with a quality applied perimeter sealant.


Free Quote
Get a
Free

Quote

Schedule your free consultation.
Your information is confidential and secure. We will not share it with third parties.