We are proud to announce that our manufacturing plant (Nordik Windows) is the recipient of the 2023 ENERGY STAR Special Recognition Award from Natural Resources Canada. Notably, our RevoCell® windows offer outstanding energy efficiency, with the vast majority of windows installed certified "ENERGY STAR Most Efficient 2023" even with dual-pane glass.
We're flattered by the kind words from our Minister of Energy and Natural Resources, Hon. Jonathan Wilkinson:
"Congratulations to Nordik Windows and Doors on winning a 2023 ENERGY STAR Canada award. Your efforts are driving innovation in energy efficiency, helping Canadians to save money on energy bills and contributing to the fight against climate change. The Government of Canada is pleased to support energy efficiency solutions as we advance to a sustainable and prosperous future."

The Honourable Jonathan Wilkinson

Minister of Energy and Natural Resources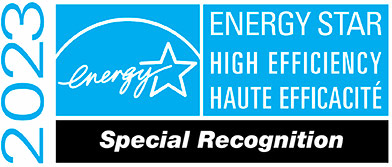 Apart from helping reduce household emissions with high-performance fenestration products, our sustainability efforts include a three-pronged approach:
low-waste and paperless operations
electrification of our vehicle fleet, and;
support for reforestation efforts in Canada.
We're extremely honoured and humbled to receive the 2023 Special Recognition Award from ENERGY STAR. This designation will only strengthens our resolve to contribute to Canada's greener economy.
Embracing Innovation Since 1982
Since 1982, Verdun Windows has been an early adopter of the latest innovations in fenestration technology. From being among the first in Canada to manufacture PVC windows, insulated glass units with low-emissivity glazing, and warm-edge cellular spacers, to bringing high-performance microcellular PVC windows to the mass market in 2017, we've made it a mission to make the best fenestration technology affordable through mass production, vertical integration, and ongoing process optimisation.
Spotlight on RevoCell® Windows
Since launching to the mass market in Canada in 2017, our flagship product line, RevoCell® windows, lead national charts with the best-in-class Energy Rating (ER) and U-factors – the main benchmarks of energy efficiency in fenestration. RevoCell® windows meet ENERGY STAR Most Efficient 2023 criteria – which distinguishes the highest performers in energy efficiency in Canada – even with dual-pane glass in the basic standard configuration sold.
The built-in closed-cell insulation of microcellular PVC addresses the shortcomings of hollow vinyl window frames, eliminating energy loss via convection and change of state of water vapour (freeze/thaw, condensation/evaporation). The one-piece construction with multiple co-extruded seals provide an airtight fit, with air leakage rates as much as one order of magnitude lower than many competitors. The solid internal construction also allows for slimmer structural members and a larger glass area, for wider views, more natural light inside homes, and a higher Solar Heat Gain Coefficient – a much-needed passive energy source in Canada's cold climate.
An overlooked feature of the microcellular PVC construction of RevoCell® windows is their durability. Nature has been using cellular construction in load-bearing structures such as coral, wood, or bone for half a billion years, due to its capacity to absorb stresses and prevent mechanical failure. With a North American Fenestration Standard (NAFS) Performance Grade several levels above hollow vinyl windows, RevoCell® windows exceed the requirements for the R (residential) NAFS Performance Class, with a higher design pressure (resistance to wind loads and water ingress before seal failure) better suited for high-rises and the harsh coastal climates.
Focused on Sustainability
Our plan is to go beyond helping reduce household carbon emissions with energy-efficient windows and doors. We understand the intimate link between the drive towards a greener circular economy and running a healthy business. We run a lean manufacturing system where:
resources aren't wasted on long-term storage facilities
locally sourced labour and materials are maximized
manufacturing waste is reduced; and
excess material is going back into the production cycle.
In addition, we're moving towards paperless documentation and communication, reducing the carbon footprint of logistics by electrifying our vehicle fleet, and contributing to Ontario's reforestation efforts by planting a tree for each window installed.
By planting a tree for each window installed, we're looking to offset the embodied carbon of our product.
Before the end of our window's 25-year warranty period, a tree will have reached maturity and is estimated to have sequestered enough carbon dioxide to make the product carbon-neutral. Planting trees is also the most cost-efficient way to reduce greenhouse gas emissions and counter climate change, while preserving a healthy environment for future generations and preserving wildlife habitats.
Committed to Quality and Service
As a long-standing member of the Insulated Glass Manufacturers' Alliance (IGMA), now known as the Fenestration and Glazing Industry Alliance (FGIA), we are committed to manufacturing high-quality and durable windows. By controlling the process end to end, from sales and manufacturing to installation and after-sale support, we back everything we install with a comprehensive 25-year warranty covering product, installation, and any service required for the duration of the warranty period, parts and labour.
---
Source: NRCan - ENERGY STAR Canada Awards 2023 Winners
---