Verdun's Complete Customer Care Guarantee
Our goal is to provide you with an affordable and enjoyable window and door purchasing experience.
In order to achieve this goal we have created our complete customer care guarantee. Simply put, we promise to make every step of your window and door replacement easy, painless and worry-free. We treat our customers the same way that we'd like to be treated. Here's how we do that:
Free, in-home no-pressure, no-hassle consultation
When you first contact Verdun, we promise to get back to you within one business day.
When you schedule your free in-home estimate, we will arrive on time, listen to your questions, take measurements and provide you with a fixed quote on the spot, in writing – all usually within half an hour.
We won't make up prices and then offer "special one-time discounts".
There are never hidden fees or surprise charges in our quote.
We never pressure you to make a decision by a certain time.
We don't offer multiple tiers of product quality that cost you more with each tier and each new feature.
We provide you with a great price on a superior product and then we're on our way. No pressure, no hassles, no tricks.
Factory-direct, fixed pricing
When you choose Verdun – there is no middle man. We control the entire process from first customer meeting to installation and service. You're not dealing with multiple companies adding their mark-up to each step in the process.
Our lean manufacturing process allows us to offer consumer-friendly, fixed prices to all of our customers. We don't have variable prices for different customers in different circumstances.
Because we manufacture our windows locally, it means you don't pay for extra shipping and storage costs that other companies charge. We take all those savings and pass them along to our customers.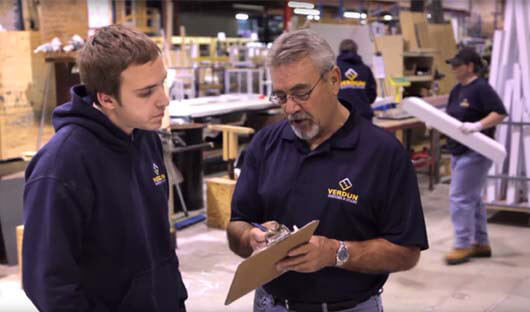 No-mess, worry-free installation
Our certified Verdun installers are full-time experts who undergo ongoing training. We don't hire seasonal temps or part time contractors to install your windows.
We are respectful of your home. We will always cover your floors with runners and drop cloths.
The majority of our window and door installation projects are done in one day or less.
We haul away your old windows and doors.
We wash your windows before we leave.
Our installation teams are meticulous. We treat your home like it was our home.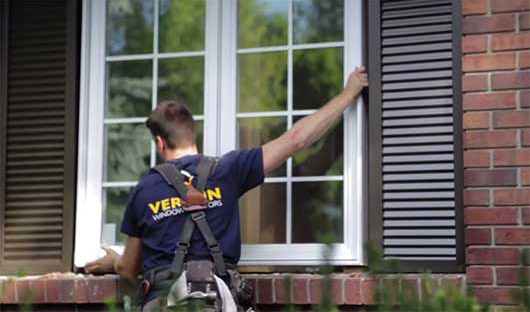 Best-in-class service and follow-up
When we get service calls we respond right away. No run-around, no hassles, no red tape. Since you are dealing with one window and door company, there are never issues revolving around whether a problem occurred because of the product or because of the installation process. We do both – we're completely responsible for the entire process – we guarantee it.
You never have to worry about having to track down a manufacturer in a different time zone or different country.
We have a huge inventory of parts available locally. You don't need to wait weeks or months for replacement parts to arrive.
Everything we do is backed by our No-Bull Warranty.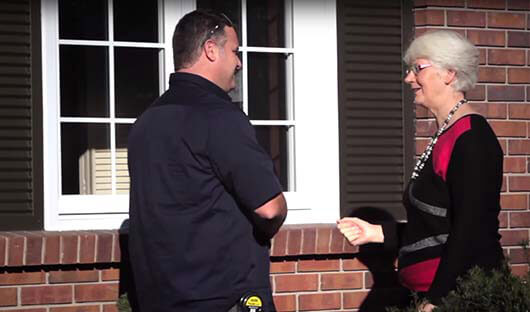 Get a
Free

Quote

Contact us to schedule your free in-home quote!
Have questions about our products, installations, warranties, etc?
Contact our support team. We will be glad to answer any questions you might have.
Contact Us