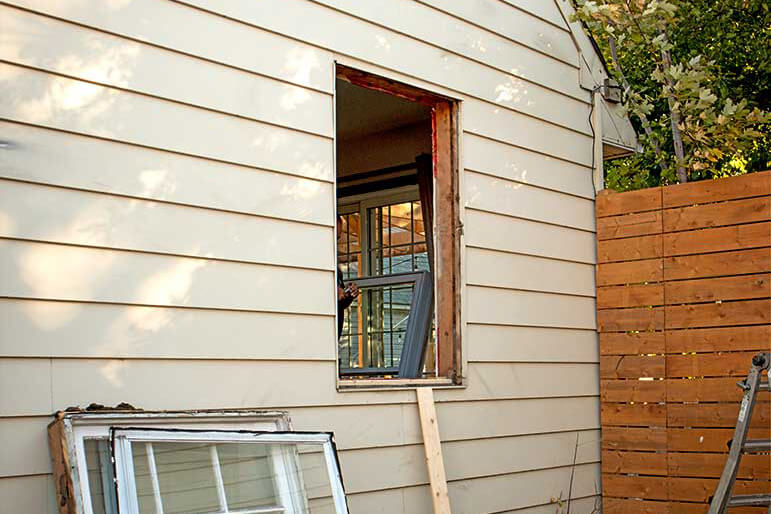 A full-frame (brick-to-brick) window replacement requires the entire existing window to be removed prior to the installation of the new window. In a full-frame installation, all existing parts of your window are replaced down to the rough opening, including frame, hardware, casings, jams extensions and brick moulds.
The alternative to a full-frame installation is a retrofit. Retrofits leave your existing window frame intact. This method is usually chosen when you're looking to preserve the original look of the house as much as possible, because you can keep the interior and exterior window trim. A retrofit installation also allows maintaining the wall's structural integrity if the existing window frame is load bearing. However, the overall glazing area is reduced, as you are nesting one complete window with its frame inside another. You also miss out on improving the energy efficiency since the seals and the insulation are not redone at the window-wall interface.
Full-frame window installations ensure that any issues you have been experiencing with your windows are resolved. They typically allow for a more airtight window, as installers have the opportunity to apply additional insulation and seals where required, as well as close any gaps that become apparent when casing and brick moulds are removed. Installers also have the opportunity to clean up the opening and to ensure that there is no hidden moisture or damage in the structure. Finally, it also allows using the newest window technologies (like RevoCell® microcellular PVC windows), helping you raise the energy efficiency of your windows a few levels up. This will, however, mean that the entire existing window trim will have to be removed and redone.