In the realm of home renovations, finding a company that consistently delivers outstanding quality and service is a true gem. Such companies stand out not only for their craftsmanship but also for their commitment to customer satisfaction. Here at Verdun Windows and Doors, we strive to make our name synonymous with excellence in the industry.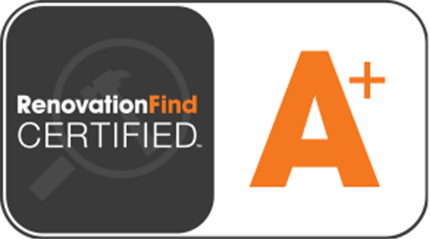 As a result of this mantra, we've recently achieved the prestigious RenovationFind A+ Rating as well as being named the top window replacement company in Ottawa. We like to think this accolade is a testament to our unwavering dedication to providing top-notch products and services in the home renovation market.
RenovationFind: Setting the Standard for Quality
RenovationFind is a leading online directory that connects homeowners with trustworthy and reliable renovation companies. The platform has become a valuable resource for homeowners seeking quality renovations, as it conducts rigorous background checks and assessment processes before awarding its coveted A+ Rating. This rating signifies a company's commitment to providing exceptional products, excellent customer service, and adherence to ethical business practices.
Verdun Windows and Doors: A Legacy of Excellence
Since our inception in 1982, Verdun Windows and Doors has been a beacon of excellence in the windows and doors industry for the Ottawa and Gatineau regions. Established with a vision to provide homeowners with top-quality products and exceptional service, Verdun has consistently delivered on its promise. Their wide range of windows and doors is not only aesthetically pleasing but also designed to enhance energy efficiency, security, and overall home value.
Our business goal has remained the same from the day we opened our doors – deliver real value to our customers. That means manufacturing high quality products and selling them for the fairest possible price. We deliver on this promise better than anyone else in the industry.
The Honour of the A+ Rating
Earning the RenovationFind A+ Rating is not just an accolade for Verdun Windows and Doors, but a reflection of our dedication to exceeding customer expectations. This rating is a result of their commitment to several key principles:
Quality Craftsmanship: Our products are manufactured using the finest materials and cutting-edge techniques. Each window and door is a masterpiece of design, offering durability, energy efficiency, and elegance.
Customer-Centric Approach: From the initial consultation to the final installation, we prioritize clear communication and professional service. We understand that every homeowner's needs are unique and work closely with you to bring your home renovation visions to life.
Transparent Business Practices: The RenovationFind A+ Rating is a recognition of ethical business conduct. We provide on-the-spot, detailed quotes, ensuring you know what to expect at every stage of the project.
Continuous Innovation: We're committed to staying at the forefront of industry trends and technological advancements. Our dedication to innovation enables us to offer you the latest energy-efficient solutions, enhancing both the comfort and cost savings of your home.
A Win-Win for Homeowners
For homeowners seeking renovations, the RenovationFind A+ Rating attached to Verdun Windows and Doors offers peace of mind. It's a symbol of reliability, trustworthiness, and unmatched quality. Working with a company that holds this esteemed rating ensures that the final results will not only meet but hopefully exceed expectations.
We're truly honoured to hold the RenovationFind A+ distinction. We'll continue on with our internal mandate of delivering you, the client, the best product and top-notch service.